Wallace Seymour (Pip Seymour) 40ml Oil Paints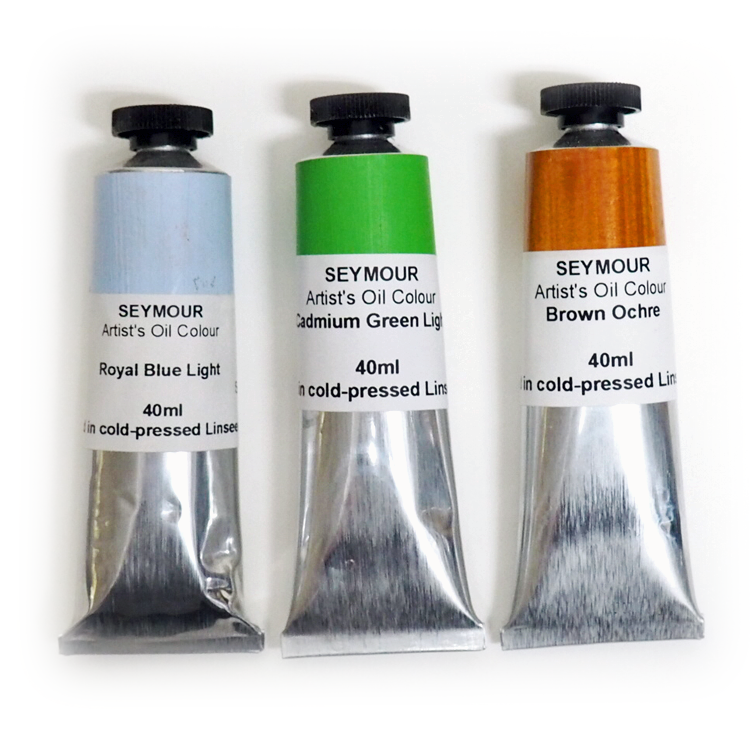 Artist's Oil Colours
Hand made oil colours, prepared carefully to give optimum colour resonance. Each colour batch is made in small quantities (up to 1 litre per batch), so that each batch of paint produced is unique.
According to the nature of individual pigments, colours may be machine ground, prepared in a hand-milling machine, or simply ground by hand using a glass muller.
The colours are prepared into English cold-pressed linseed oil, from a single estate farm. This oil is a limpid golden yellow colour, is free flowing (brush marks tend to settle out of paint films) and pressed without the addition of driers.
Because these oil colours are made without drying agents, they dry out according to the nature of the pigments used. Its suggested 10-20% addition of Wallace Seymour Fast Drying Oil Glaze Medium, to ensure balanced drying times – but note that the over-use of driers can be the cause of failure of paint films, leading to cracking and wrinkling of the dried paint, loss of sheen and excessive darkening.
NOTE that these paints are also available in 150ml tubes. The prices for these are:
Series 1: £23.75
Series 2: £33.25
Series 3: £38.75
Series 4: £66.00
Series 5: £75.25
Series 6: £107.40
Native Earths: £35.30
Please contact Write Here by telephone (+44743 245950) or email (sales@writeherepens.co.uk) to discuss these.
The oils are unique to Wallace Seymour's hand production. The price varies according to the value of the pigment used: Series 1 - £9.00 Series 2 - £12.75 Series 3 - £17.45 Series 4 - £25.10 Series 5 - £28.90 Series 6 - £37.10 Native Earth Series - £15.70
Only logged in customers who have purchased this product may leave a review.